I can't believe that June is here already! It seems like Christmas was just the other day, especially since Abby woke me up a couple of nights ago and asked me if it snowed while she was asleep (trust me, at 90+ degrees, nope it didn't happen)! Yes, this is the same sweet girl who will pick up a bug and chase me around the yard with it until she falls down from extreme laughter!
My little lady is loving me coloring with the Copics. Let me tell you, for 3 years old, it is quiet comical to hear her "explain" them! Needless to say, she picked out all the "pinks" for today!
Today's card is based off of Sketch Tuesday over at
Christian Paper Crafts
!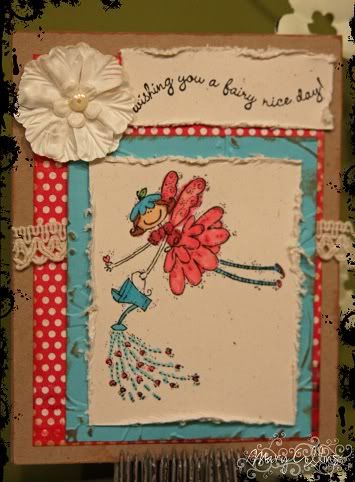 I used the
old
Stampin Up
Fairy Nice stamp set,
PTI
cardstock and misc patterned paper, lace, prima flowers, my copics, Momento Tuxedo Black ink, Tim Holtz distressing ink, and my cuttlebug stylized embossing folder! This is also my work of art for the
Paper Garden Projects Blog,
to make something "girly
"!
Have a wonderful day!
God Bless You,
Mary