Oh that would be me, right here...the girl with glimmer mist all over her hands!! This week has been forever long! It may be because we are looking forward to Relay for Life on Friday night, but no, it's most likely because I am waiting to hear a decision about grad school!
With that being said, I guess it will serve as an explanation for my mind not being on track this week! For example, today's creation is a Christmas card that serves as an invitation to my annual Christmas cookie/candy swap! Abby has been watching the Tim Allen Santa Clause movies over, and over, and over, as well as Elmo's Christmas, so I guess it's rubbed off on me... Only problem with that, now she wants to know when we are putting up the tree!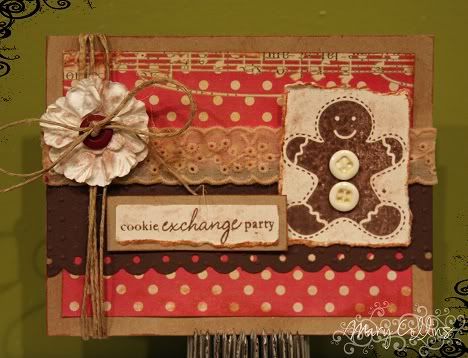 The papers are from papertreyink as well as some misc pp. Fiskars treading waters punch, PTI holiday button bits stamp set, prima flower, jute, buttons, edge distressing tool, momento rich cocoa ink and GLIMMER MIST of course!!
Hope you are having a wonderful week! Send up some prayers about grad school for me if you don't mind!
God Bless You,