I know, I know... It's not Feb 14th, but it is my anniversary! Just in case my hubby happens to pop over here (which he actually does from time to time), I just wanted him to see that I love him and am wishing him a Happy Anniversary!
On to the creativity of the day! Today is Scripture Saturday and CASE Artist Saturday over at
Christian Paper Crafts
and I am ever so excited as always! Today's Scripture card is up first. The scripture for today is Psalms 30:2 and how powerful it is. Knowing that we can cry out to God for healing! This is the card I made for today: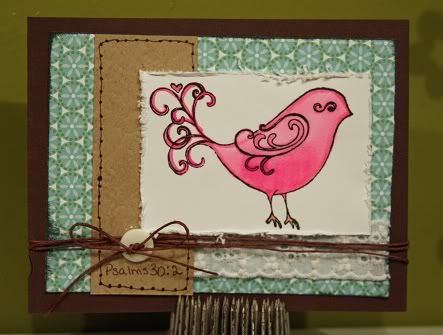 The papers are all from Papertrey ink and the stamp is from the Music of My Heart Ippity set. I used my Copics to add color and a button with some jute and lace :o)
Next up, we have CASE Artist Saturday! Today, our featured artist is debils! I just fell in love with her cards and the layouts are wonderful! Click
here
to see the card I chose as inspiration, and below you can see my creation.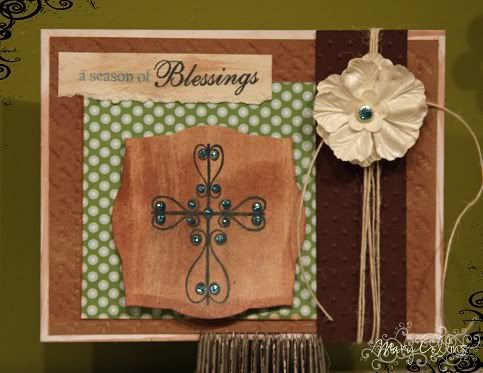 Papers are all from PaperTreyInk. Stamp is from Ippity. I also used my cuttlebug, jute, prima flower, turquoise stickles, and GLIMMER MIST! I glimmer misted it all and loved every minute of it!
Come join us at Christian Paper Crafts and play along. When uploading a Scripture Saturday card for this week's challenge, tag with SS49 at Christian Paper Crafts and CPC-SS49 elsewhere. For CASE Artist Saturday, it's simply CAS55 at Christian Paper Crafts and CPC-CAS55 anywhere else!!
My mommy and I are planning to work on our Relay for Life banner for next weekend and grab me some blue Glimmer Mist! Tattered Angels - ahh, bliss!!
God Bless You,