Good morning! I am so glad this week seems to be going by fast! I simply cannot wait for the weekend to be able to do some more Christmas decorating at my house! I simply must wrap some packages to get them out of my closet, but finding a way to keep my little one out of them is going to be the task!
I am so honored that
Unity
is our sponsor over at
Christian Paper Crafts
this month! If you have not tried them out, I highly recommend them! The
Unity Kit of the Month
is something I just recently began receiving as a monthly treat from my husband. With so much going on in life, it is a nice little break in the day when I go home to see that yellow envelope filled with a brown bag of goodies has arrived! The
Unity KOMs
are not very expensive compared to many other "kit clubs" and is a great way to keep getting new goodies! Going to the store, I know I would be tempted to purchase so much more that I would never use!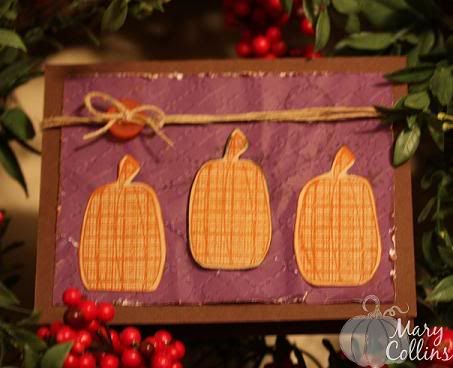 This first card is made From
Simple Blessings
- a stamp set the DT was given to use and create with! The first thing you probably notice about this card is - it's simple! The reason being, I have had many, many people tell me they would like to try crafting or card making but it is just too complex once they look at the creations of others. I like to gently remind people that God made us all just the way He wants us. He will continually mold us and shape us in everything we do, and that all paper-crafters had to start somewhere. It's nice to go back to simple cards every now and again! On this card I used some Brown paper from
PTI
as my cardstock base, some purple Post-It Craft paper (love this stuff), kraft cardstock, jute, button, and
Close to My Heart
inks! I did run the Post It Craft paper through my cuttlebug and distressed the edges. You know what - it did great!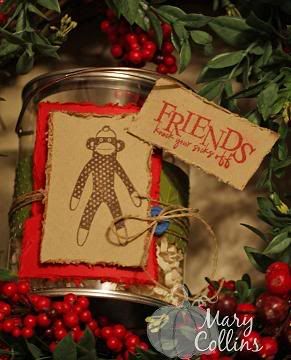 Now this little number is made from my Unity October Kit of the Month and you can still purchase it
here
. As soon as I saw this little sock-monkey appear on my screen during the time of preview for the Kit of the Month, I fell in love with him! Trust me, if I had time, there would be people on my Christmas list getting homemade sock monkeys just so I could make a gift tag out of this little guy :o) What I did though was something still along the line of socks, in that I altered a clear little paint tin ready to hold some new warm, fuzzy socks! It will be the packaging for my gift at our Ladies Auxiliary Christmas swap. You know - you always get invited to these parties where you are to take a x dollar amount gift. Sometimes it is so hard to find something, but I know the little fuzzy socks will meet the price and put a smile on someones face!
Head on over to Christian Paper Crafts and see what all is being created with Unity this month. You can also find us in the SplitCoastStampers gallery keyword
CPCUnityNov09
. Have a wonderful day!
God Bless You,