Okay - I openly admit that while most people think the silent snowfall is peaceful, I think it's eerie! I do not like snow and to think that something is piling up outside that causes the roads to be so dangerous, the loss of power, and requires cold weather to happen - and all silently - I just don't like it! Now that I've confessed - we'll move on :o)
Since it's so cold out, I have really enjoyed being couped up in my scrapbook room, hoping to get caught up on some things... My mind works faster than my hands can and makes a LOT of plans that take time to get to paper!
First today is for
Scripture Saturday
here and over at
Christian Paper Crafts
. Today's verse is Proverbs 16:3. I chose to use
Gloria's Sketch #40
over at
Christian Paper Crafts
to fix a page for my husband's scrapbook. Shhh...it's a secret, and I am hoping to take pictures as he is preaching to give to him for Christmas this year! I think I need to get to work on it more and what better way than using the
wonderful sketches
and
Scripture Saturdays
as motivation!! Oh, and Cindy's challenge for
Fun on Friday
yesterday was to use your nestabilities to emboss with! I really did it...finally... Although the picture doesn't do it justice, I was so tickled with the result of the embossing, it really gave it an added touch!!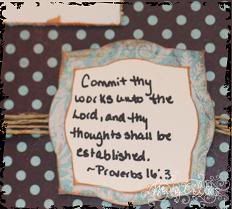 On to CASE Artist Saturday over at Christian Paper Crafts, where our featured artist today is Deedee. Click here to see the card in her gallery that I chose to CASE the basic layout of, and below is my interpretation and creation!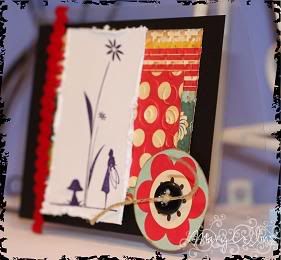 I hadn't made a clear card in quiet some time and I added a layer with the silloute stamped image!
God Bless You & Have a Wonderful Saturday,