With all of the snow that we have encountered lately, this is now my favorite kind of snow flake - FAUX and glittery! :o) Hopefully the cold, cold weather will be giving us a little break this weekend and we will see some weather in the upper 40's! Talk about a heat wave for us!
This little card is a couple of challenges rolled into one! The Jen's Color Monday over at
CPC
was to use Blue, Brown, and White... brrr - when those colors are together, to me they just begged for some snow flake action! And see the blue paper on there - that is some My Mind's Eye that I had leftover from Christmas projects! If you look real close, you can see that I also embossed it with a cuttlebug snowflake folder. And of course, you know I had to add in some jute and lace to go with that pearl in the center of the snowflake!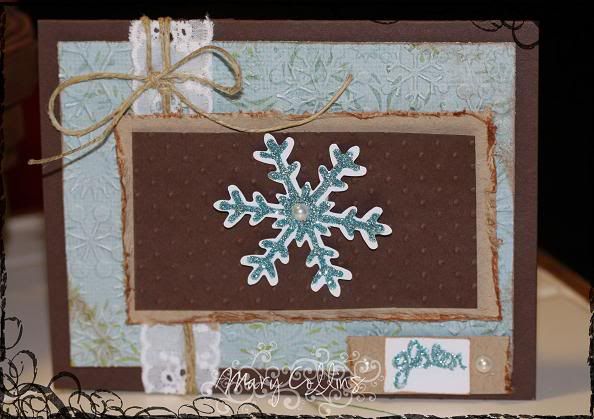 I hope that you are having a wonderfully blessed day! Die Cuts R Us is having a DT call! Be sure to check it out - they are wonderful and any girl chosen there is sure to have a wonderfully blessed time!
God Bless You,