Today I am very happy! Up very early, after going to be very late, snow in the forecast (I strongly dislike snow)...but still VERY happy! You see, this week I had what I consider to be a WONDERFUL apt at my hematologist! Cleared for another 6 mos and I am praising God!
I hope to be back to our nice, warm home before the snowfall begins...hopefully we will not lose power this time and I will be able to fit in a whole lot of paper-crafting with a little bit of homework. Thankfully the housework got done last night...
This little number today follows three challenges! First - albeit very basic, is the square you see! Cindy's challenge over at
Christian Paper Crafts
today for Fun on Friday is all about die cutting machines. I really wanted to play along, but this card simply needed a square! I guess that goes to show you that even the simplest of functions can be done on the good ole' Cricut! Next is the ribbon! When I saw that the challenge over at
Die Cuts R Us
this week was to use ribbon, that had me hooked! With a little button and some jute - well, that's right up my ally (and yes, it was hard for me to NOT add lace in there somewhere!)! Lastly, this wonderful sketch is from none other than
2Sketches4You
! The cardstock is
Gina K
, and the patterened paper is from the Blush line by Basic Grey. Wal-Mart is responsible for the silk ribbon, button and sentiment (Heart Prints Sentiments) are from
PaperTrey Ink
! Oh, and I used the Victoria folder to emboss my square on my cuttlebug!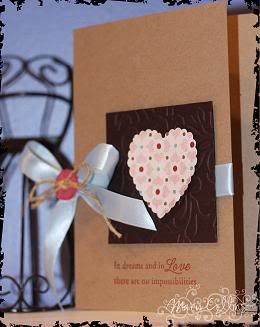 Just since it's Friday, here is a little sneak peak at something special I am working on for Valentine's Day! I'll tell you more about this project NEXT Friday - which give you plenty of time to try it for Valentine's, too!
Have a wonderful weekend & God's Blessings to You,