The month of January is quickly coming to an end, but we have had so much fun playing with
GinaK
goodies at
Christian Paper Crafts
.
When it comes to Valentine's this year - why not think of someone other than your normal sweetheart? My favorite scrapbooking buddy is my mom - and what scrapbooker wouldn't think this kind of candy is not better than chocolate?
The box is a timeless template purchased at
PaperTreyInk
and the stamp is
Gina K
from the
Festive Lab
els collection. The small pillow box of buttons is also from
Gina K
and can together with scrap paper to make a small gift. All the fabric flowers are handmade by me.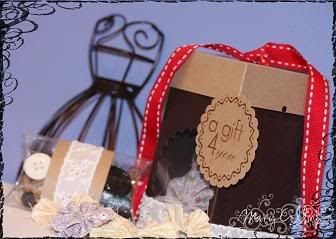 Well, I must run - it will be a long day at work with an evening meeting and snow on the way tomorrow! I'm happy to say that next week I hope to have my new blog more up and running and be more recovered from the battery issue :o)!
God Bless You,