Good Monday morning! Along with Monday and back to work, comes a little bit of fun in that it is Color Monday with Jen over at
Christian Paper Crafts
.
Today's challenge was to use teal, kraft, white, and one other color of your choice if you wish! Let me tell you, Jen has really been on a teal kick this month! I am starting to think that it's her new favorite color or something :o) That's okay though - I am in a pink mood as you can see with the pink and snowflakes that I have added in!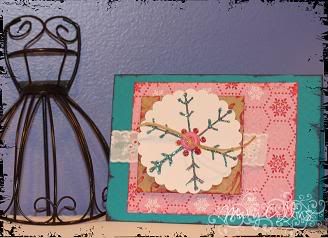 We're supposed to have some more snow coming our way this week, and that makes me oh so sad. I am really ready to see the snow end for the year. Thankfully I had tires placed on my little car Saturday, followed by the most wonderful day with my mommy and little girl. Those are the most precious times - ever.
I can't wait to see what you make with Jen's color combo!
God Bless You,