Hello and welcome back to Scripture Saturday! This week I decided to use the sketch from
2 Sketches 4 You
to make my scripture card with! Want to know something else? The scripture is on the inside this week! The scripture chosen was Acts 19:11-12. I chose it because that is what we place on the cloths that we anoint for the sick at our church. I made this card to send to someone once we anoint a cloth for them!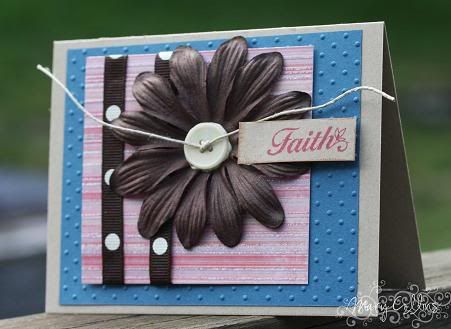 The flower is a big Bazzil, I just love those, and the papers are
PaperTreyInk
,
SU
, and My Mind's Eye Laundry Line. A little ribbon, some jute with a button, and a little word of Faith from the new Heavenly Medley Stamp Set from the June
PTI
release and our card became complete!
Thank You for stopping by today and have a wonderfully blessed weekend. Oh, and have you stopped by the
Christian Paper Crafts Mag
. site? There is some exciting news going on there that you do NOT want to miss! Come be a part of the fun of scrapbooking and praising our Lord!
Oh, and let me share a sweet, sweet picture with you! Here is my wonderful brother-in-law with his favorite (only) niece... Can you tell he has her spoiled? This is on his street bike, but when he bought the Harley, she is in his "New Harley Owner" photo with him ;o) He is an amazing Christian man, and my husband and I are so blessed that he loves our little girl so much. I am truly honored to have him for a brother (in-law).
God Bless You,