You know, I'm totally girl. I don't care to admit it either! I can deal with shades of blue and green, but chances are, there's some pink thrown in there and definately some bling. So.... this little card was a true challenge!
I took the plunge and made it anyways! I'm not too dissapointed in it either! See, as we give the Prayer Shawls away at church, we are also doing blankets for children who are ill. As I have been making adult and girly cards, I admit the cards for boys have been store bought! (It's okay - I make sure to find out their favorite characters!!)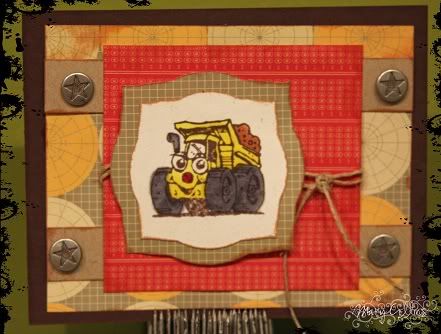 The stamp set used on here is an oldie from Stampin Up called Little Trucks. I actually purchased this one off of eBay to make a birthday card for my little nephew Cole a few years back! And yes, that's the kind of Aunt I am - I'll buy a whole stamp set for ONE card for the babies :o) The papers are PTI cardstock and Cosmo Cricket the Boyfriend pp line. Making Memories mesh star brads, Tim Holtz distress ink, copics, nestabilities, and jute!! The card is also for the Fun on Friday challenge over at Christian Paper Crafts from last week when we were out of town. One stamp set, two embellishments, and three different pp's!
Have a wonderful wednesday - Half way through the work week!!
God Bless You,
Mary