I have an announcement! (I actually did this Friday night for my Relay Team and have been waiting until this morning to announce it to the rest of the world!)
I have been accepted into graduate school!!!! Thank GOD!!
This news has totally sent me over the moon! My mood is totally in the mode of nice bright colors, much like the ones on the color challenge at Christian Paper Crafts for Color Monday today!
The challenge, pink, yellow, orange, blue, and neutrals - either a combination of some or all... I just had to take a go at all of them and managed to fit it in!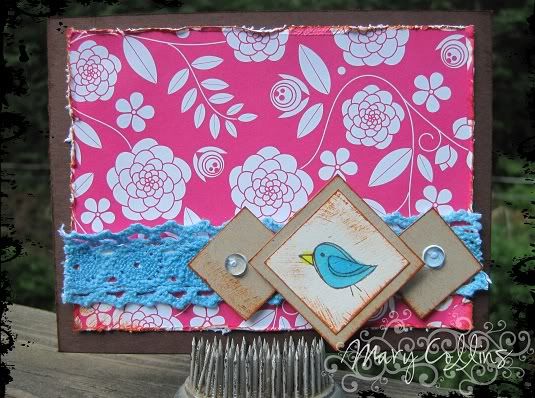 I used PTI cardstock and patterned paper, bling from The Robin's Nest, Ippity What Matter's Most stamp set, misc lace trim and some Tattered Angels Glimmer Mist to spruce up my trim! The sweet little birdie is colored with copics and the wonderful sketch is from Card Positioning Systems - way too long since I have played over there!
So let's see, there's obviously pink, blue, and neutrals there, the little birdie's beak is yellow and all my edges are inked in orange!
Have a wonderful day! Hopefully my happy news will keep me on cloud nine even if it is a Monday!! Special thanks to everyone who kept me in their prayers! I truly appreciate it and ask that you continue to pray for me as I begin this new journey!
God Bless You,
Mary