And so I continue to play the waiting game when it comes to graduate school. While waiting to hear the fate of my application I have been putting in quite a bit of time on a Statistics class AND paper-crafting! The stats class is more beneficial when it comes to school and work, but the paper-crafting is better for the heart, mind, and soul!
Thursday's always excite me, because that means that it is Bible Verse Thursday over at
Christian Paper Crafts
! Not only does the challenge help to get you more into God's Word, but for me, it serves as a good started for a Prayer Shawl Ministry card!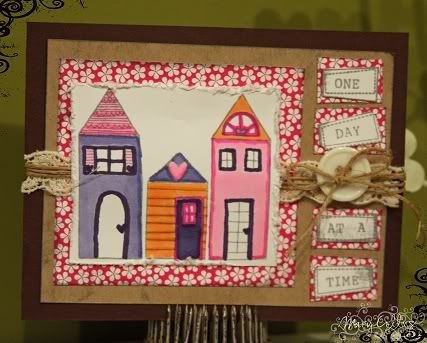 I just loved coloring in these cute little houses with my copics! They are stamped in London Fog and all paper is from PaperTreyInk. My sweet copics are what they were colored in with. With the addition of some jute, twine, and lace, my card was all set!
Well, tomorrow is our Relay for Life! I can't believe it is FINALLY here! Please pray that we have a fun, SAFE night and trip home the next morning!
God Bless You,