Yes, that would be today! I am officially a graduate of
Indiana Wesleyan University
with my Bachelor's of Science in Nursing degree. Although I have been a nurse for years, finishing my Bachelor's degree was the first step in achieving my dream of obtaining my Masters to be a Nurse Practitioner! IWU is a Christian school, which was so cool because the first college I went to also had a Christian emphasis. If you couldn't tell, I'm a little excited!
Being in school, having a family, and working full time was enough to make the blog take a back seat every now and again, but when you coupled that with the fact that I decided to take all accelerated courses to finish quicker (what was I thinking?) and having technical issues, well.... The techno issues won out and I didn't have as much time to fight with them :o( Back now though :o)
Some things that have been going on before we get to the crafty business of it. The church where I attend now has a Prayer Shawl Ministry that I am blessed to be a part of. Here is one of the shawls that I crocheted for the ministry. We present them to those who have a need, whether it is physical sickness, emotional, those suffering loss, etc. This one is made for a special friend's sister-in-law who is fighting breast cancer. She is a courageous Christian and is trusting in God for her healing. Please join me in praying for her, especially as she is only 35 and has three young children as well as a spouse.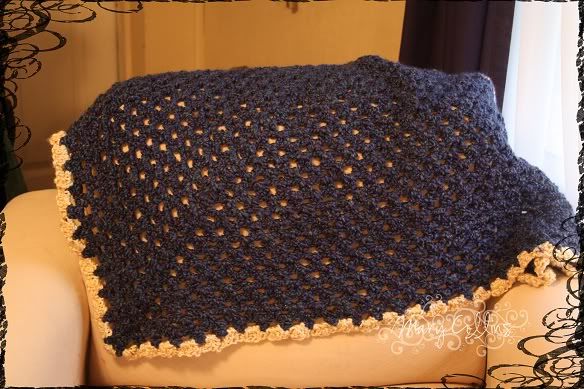 And my scrapbook room got an updo! I never really knew what to call it to be honest because it didn't have a door or even a doorway, it was just sort of an extension or bonus space off to the side of our family room that the contractor never finished converting into a bathroom (before we purchased the house), so my sweet hubby decided to build me a wall and buy me some french doors for the place and call it my office! He thinks office is a good term since I am waiting to hear whether or not I am accepted into grad school for the fall! I love the new color and furniture! Finally, everything matches and it is not a messy hodge podge of stuff! (I looked for a "before" picture, but was unable to find one....it was a horrid mess, so I am not sure I would have wanted to post it if I would have found it!) The area is very small as you can tell, I think the room is around 8x8, but it is serving it's purpose :o)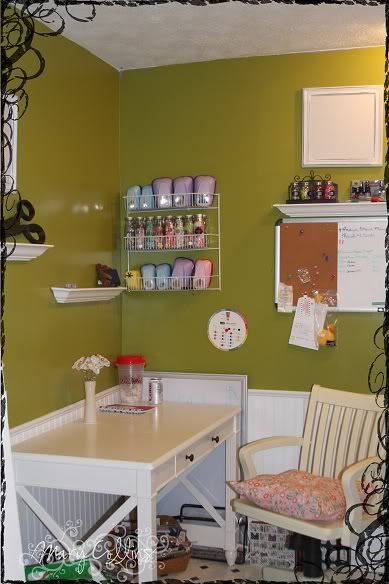 Now, on to the paper-crafty goodness! Today is of course Scripture Saturday and CASE Artist Saturday over at Christian Paper Crafts! If you have not stopped by and become a member, I urge you to do so. If you are unfamiliar with CPC, check it out, you will not regret it!
Our featured artist today is
Bernadette
. The card of hers that I decided to CASE can be seen by clicking
here
. When I saw the little squares, I immediately thought of quilting and fell in love! This card also follows along with Cindy's Fun on Friday challenge for yesterday (FOF51). You can read all about that
here
.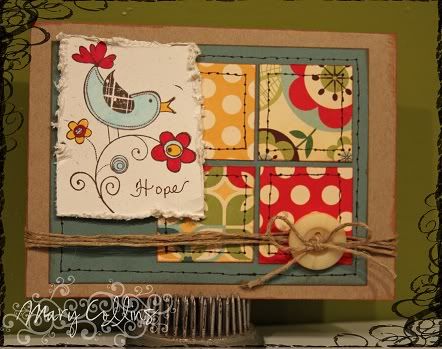 In the picture below, you can see a better close up of some of the detail! I used PTI cardstock along with Cosmo Cricket! Unity Stamps and copic markers.
Next is what I created for Scripture Saturday. I love to keep verse close by whether in my office at work or my new office at home. I find that if I begin to get aggravated, I can grab my ATC holder and look through it... A smile and prayer comes up in no time after that! Today's Scripture is Proverbs 3:13, from any version you chose. I am more familiar with the King James or New King James version, so those are what I use the most. I also decided to use a little Fun on Friday theme on here as well! I hope you enjoy!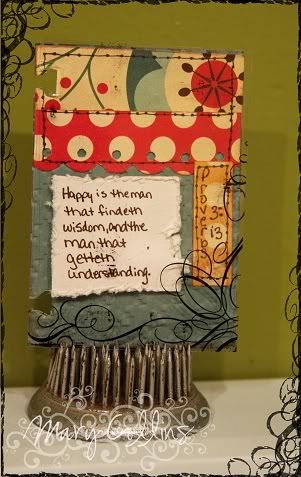 Have a wonderfully blessed weekend,
God Bless You,