You know, sunshine really is good for the body. Lately we have had so much sickness in our community, it got me to thinking. Although there is sickness around and the dreary weather seems to only add to the feeling that brings, there is something better. SONshine is good for the soul. Right now, the pastor of our church is sick and in the hospital. As a Christian man, he desires your prayers for healing so that he may continue to do God's work. Please join me in praying for Brother Donnie.
Today is Sketch Tuesday over at
Christian Paper Crafts
! I used Basic Grey blush pp, PTI cardstock, Ippity Stamps, Copics (of course), jute and a button!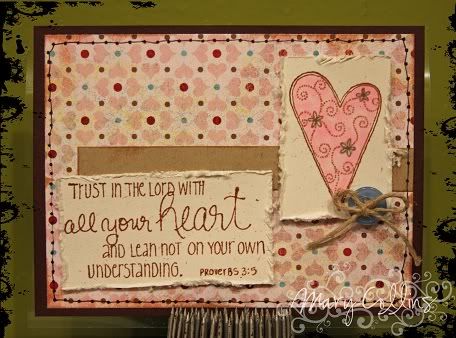 The edges of the scripture and heart image are lightly distressed with an edge distressing tool and the stitching, why that's fake sweetie :o)
God Bless You,