As busy as my agenda is for today, I didn't know what to call Thursday, but I thought since I am starting it off crafty, it must be pretty 'rockin'!
I usually do not like to use my own handwriting on a card if it is a whole verse or something more than one word, however I decided to go ahead and give it a whirl on here. All of my cards lately are going to the Prayer Shawl Ministry at our church, so I think a little personalization might be just the key :o) Plus, making all of these cards for the shawls has been an EXCELLENT excuse to paper-craft and buy more supplies!
As you see, the verse on the card is Matthew 8:3, which is talking about Jesus' healing hand. The Bible Verse Thursday challenge over at
Christian Paper Crafts
today is about "hands", so I thought this would be a wonderful verse to use on a card accompanying a Prayer Shawl. My wonderful sketch came from
DigiDoodles
and the colors are from the
Stampin Sisters In Christ
blog.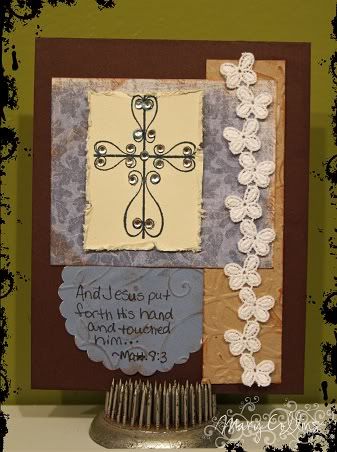 Items used: Randon Paper Scraps, PTI Kraft, Brown, and Rustic Cream CardStock, fabric trim, cuttlebug, CTMH ink, Ippity Stamp, bling, edge distressing tool.
Have a wonderful day! Remember, it's almost Friday! :o)