Hello and Happy Saturday everyone! I hope that everyone's weekend is off to a wonderful start! Although I have been dealing with a headache, I have to say it has been a great weekend so far! Right now I am blessed to be getting a pedicure as I type this blog...well, my hubby is the one doing it, but that's
the best :o) I love having some pretty toes to peep out of new sandals!
This yucky headache has lingered for a couple of days, therefore so did this card. I still don't think I am totally satisfied with it, but as much as I will ever be, I suppose. Since I didn't feel too well, I tried to combine as many things as possible! The sketch is from the lovely
2Sketches4You
, while the Bible verse using the word "paths" is from the
Bible Verse Thursday
challenge
#55
over at
Christian Paper Crafts
. Also, the heart is colored using copic markers, the challenge for
Fun on Friday #54
over at
Christan Paper Crafts
as well
!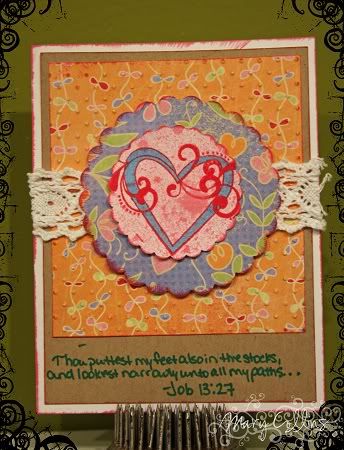 Supplies:

PTI

cardstock, Georgia Pacific cardstock, Basic Grey pp, Wright's Creative Classic Trim, American Crafts Slick Writer,

Ippity

Stamps (Music of My Hearts),

SU

Real Red Ink,

PTI

Hibiscus ink, Bubblegum glimmermist
Also, this card was my first ever attempt at using glimmer mist.
With that being said, it led into this: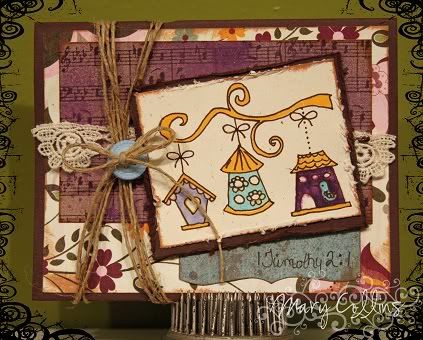 Now
this was F-U-N and right up my ally!! T
he Scripture 1 Timothy 2:1 is for
Scripture Saturday #47
also at
CPC
. After using the glimmer mist on the card prior to this one, I had to break it out again and spritz some around! Add some jute, trim, and a button, along with distressing the edges of the stamped image to shabby it up a bit! The stamp of the birdhouses is from a
Unity
KOM
from this year, although I cannot remember which month, and the background is stamped with music which is the
challenge over at
Stampin' Sisters In Christ
this week! I used
CTMH
inks Pansy Purple and Sunflower. This sketch is from
MOJO Monday
,
Sketch 139
, and
although I always want to play along, I usually forget the sketch and use it too late to add it to the link list - not this week...almost, but I'm making it in time :o)
Well, I'm off to add these cards to the Prayer Shawl Ministry Basket! Thank you for stopping by, I sure hope you come back soon!
God Bless You
,