Good afternoon everyone! I hope everyone that drops by the blog regularly has not dropped off since I have not posted in a week! I was having some major computer trouble... Well, really not major, but my computer would not type correctly in Internet Explorer and Firefox would not submit things properly! Long story made short, Abby (yes the 2 year old), hit some buttons on Thursday that caused me to have to sit down and work on the computer for almost 2 hours (it locked up EVERYTHING - Windows would not open), and after that we have been working fine!!
Today's Scripture Saturday scripture is from Joshua chapter 10 verse 25. I only used part of the verse on my page, which is of my dear Uncle John who passed away this past June. He and I were very close so this was a difficult page to make. If you notice, I have not done any journaling on the page yet except the verse. Perhaps one day I will be able to write my journaling on there, if not, I think the verse sums it all up. He was very strong and courageous all throughout his fight with brain cancer. He battled it over 4 years before going home to be with the Lord. Very strong and courageous if you ask me for a brain cancer that the medical field only gives a year life expectancy for!!
Come play along over at
Christian Paper Crafts
! Remember, there is no time limit, but please use SS003 and let us know if you upload or blog it anywhere!!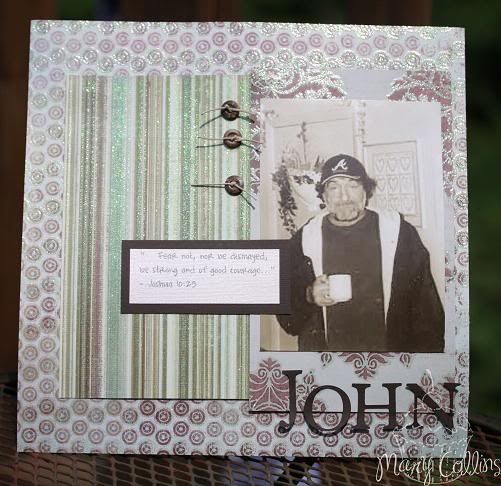 (My Minds Eye Papers, Buttons, Cricut)
This project is my card for
2Sketches4You
this week! I used Cosmo Cricut papers and the stamp set is an oldie from
SU
Long Time Friend I think... The papers are all included in the
His Princess Scrapbook Kits
kit for this month!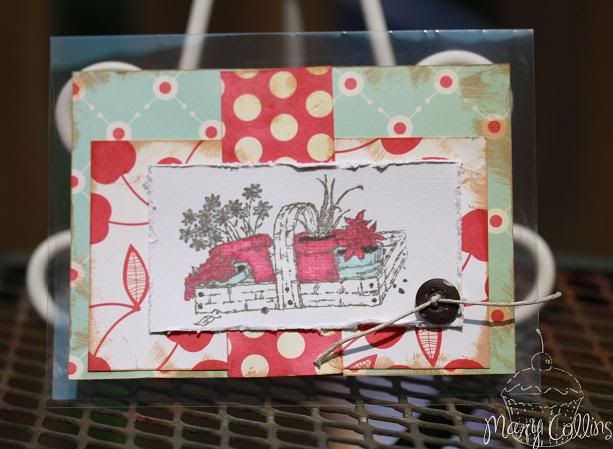 God Bless You,