For the last week I have been a little under the weather with a sinus infection...ugh! I have been very blessed to actually feel well enough to participate in today's challenge over at
CPC
. Fun on Friday is a challenge where you never know exactly what you are going to find - you just know it will be fun! This week's challenge was to use fabric, and I have to admit, this is the FIRST time that I can remember ever using fabric on a card! It did get me inspired though - as soon as the weather turns off cold again - my quilting supplies are coming back out and I am determined to get one of my quilts finished this winter! Pray for me in that endeavor!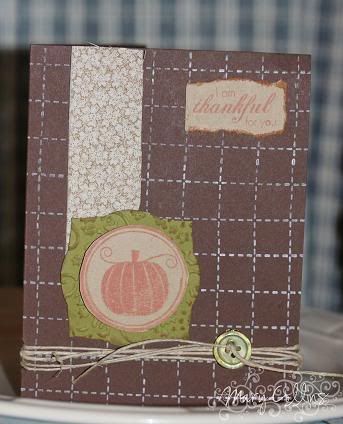 My Dad's birthday isn't until October 17th, but let me tell you, I have an awful time with manly cards... Therefore when the thought hit just right and I had the idea for this card, why I had to go ahead and make it then, or it wouldn't have gotten done :o)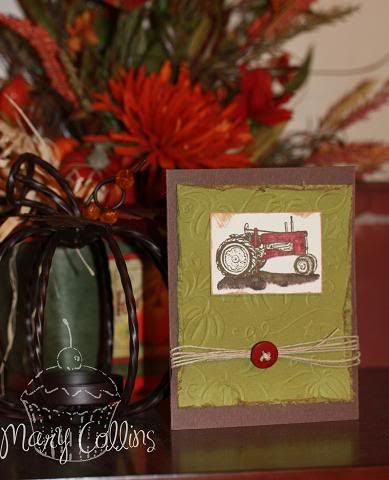 I just love this embossing folder of pumpkins and vines for the cuttlebug. I think adding the distressing on there made it suite the old tractor (from SU tractor time - long ago retired - sorry) just right! The jute and button were the addition to complete the card - however I hope the button does not make it look to girly. I guess that's one good thing about making a card for your daddy - he would never say it didn't look good :o) Oh, and by the way, the tractor is red, because that's the color of my Dad's old FORD tractor! Colored with copics.
Now, here's the juicy contest details. Head over to
Christian Paper Crafts
and play:
We have two "challenges" of sorts with some great prizes by
Our Daily Bread Designs
that we'd love for you to participate in. The first is a membership drive from August 31 to September 4. Tell your friends about
Christian Paper Crafts
to sign up and participate. In the Referral section when they sign up, all they have to do is put your name. We will tally up the results at the end of the week and the winner will receive a newly released stamp set from
Our Daily Bread Designs
. The second challenge is a posting challenge that runs from September 7 through September 11. When you make comments in the gallery, this also counts as a post. Let us know what your number of posts are at the beginning of the challenge and what they are at the end of the challenge. The winner will also receive a newly released stamp set from Our Daily Bread Designs. A special board will be set up for the second challenge for you to post your starting and ending numbers. We look forward watching our community grow to spread the Gospel of Jesus Christ and glorify Him in everything that we do!
As a bonus from me, if you come back here to my blog, become a follower, and leave me a comment telling me you did so, I will enter you in a random drawing for some blog candy to be given away from me in celebration of Christian Paper Crafts contests - winner will be announced on my blog Sept. 12th!!
God Bless You,