I have been busy as a bee so to speak working on the scrapbook I started last year of our ventures to the lake! I filled part of it up last year, but wanted to add this years photos in to make it more complete before showing my in-laws! The pages are all 8x8, so they are fun and easy to make! This year, I have been using a lot of Cosmo Cricket Early Bird paper from the kit of the month from
His Princess Scrapbook Kits
for my pages! It is amazing how versitile this paper is. I know that the "theme" of it is supposed to be kitchen and cooking, but just look at my lake pages - there's not a cookbook feel at all!
Found in this page, you can see the loves of my life! My wonderful hubby and sweet little daughter Abby as they are swimming in the lake!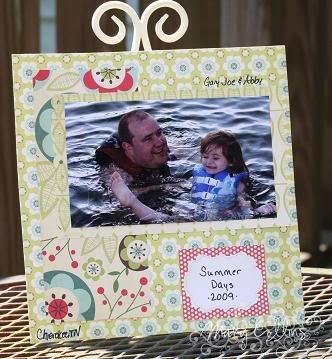 Hey, today is Color Monday over at Christian Paper Crafts - why not go try it out!
God Bless You,