We are getting some snow here in our part of the world today - hopefully it will not amount to anything though :) I am ready for some nice sunshine and Spring weather to be here.
My card today was made for my mom. First of all, let me tell you about her. To know my mom is to know love. She is the most amazing woman I have ever met in my life. My mommy is such a good hearted person and absolutely my best friend in the world. No wonder Abby loves her so much. Let me tell you - as a side note her sugar cookies with homemade frosting are the BEST! Paula Dean has nothing on my mommy! My mom also has a lot of trouble with sinuses though, and it causes her to lose her voice frequently in the Fall, Winter, and early Spring. I made this card as a get well/thinking of you and it just happened to turn out to be one of my favorite cards ever! Maybe it is because I was thinking of someone as special as her while I made it!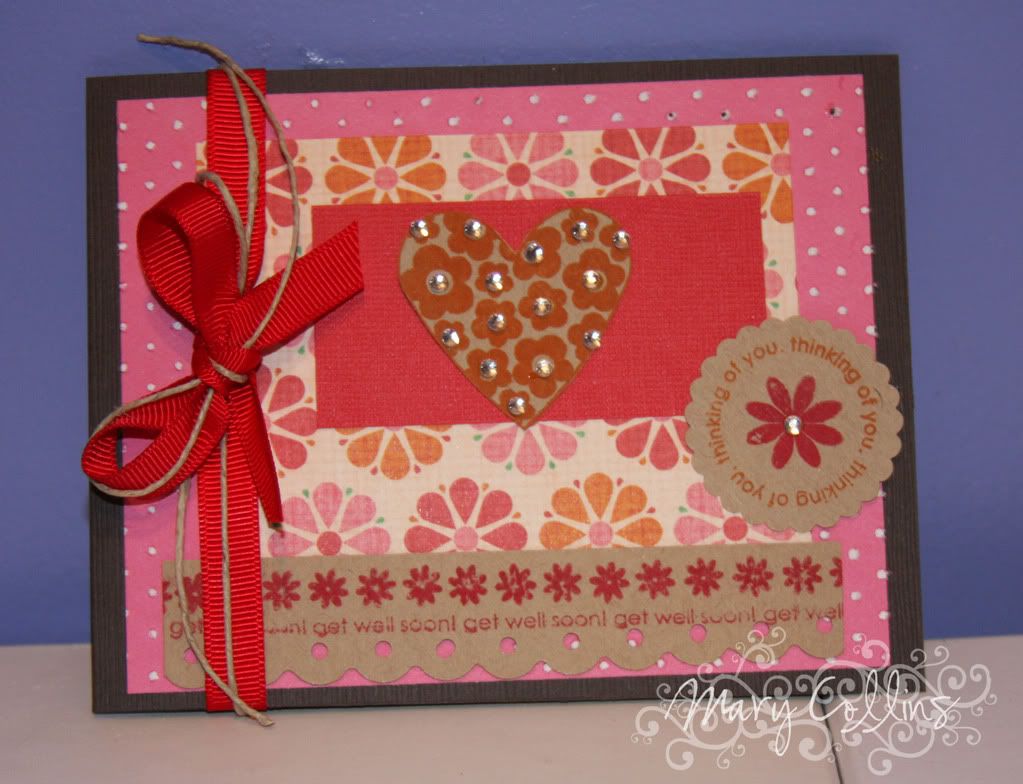 I used some my minds eye paper, brown cardstock, red cardstock, craft cardstock,
Stampin Up
!real red ink,
Stampin Up
! orange ink, American crafts red ribbon, jute,
PTI's
around and about sentiments, and of course
PTI's
Heart Prints. I also added a little bling!
Don't forget that a week from Monday starts Birthday celebration week! I have not decided how I am going to hand out the "gifts", but I do know some blog candy will be found here!
God Bless You,
Mary