Many of my blog readers know that I am actively involved with the Christian Paper Crafts website! If you have signed up recently, you probably even received a personalized welcome email from me!
Because of CPCMag, my Scripture Saturday's will probably be a little different from now on. You see, as part of our commitment to being a Christian Paper Crafting Site with a Christian atmosphere, it is important that we keep Christ in the center of everything we do.
If you have taken a look at the challenges over on the site, you may have noticed that Thursdays are Bible Verse Thursdays where the challenge is to make either a card, altered item, or scrap layout with a verse. Wanting to step that up a notch and make it more specific, I will now be hosting my Scripture Saturday's at CPC! On Scripture Saturday, I will post the scripture for you to make a scrapbook layout with! As we are trying to appeal to all realms of paper-crafting, we felt it important to add a space just for Scripture on scrapbook pages.
So, if you have never scrapbooked before, but have always been looking for the time to start, here it is! I challenge you to join me on Scripture Saturdays, use the verse and go with it. It doesn't matter what size you decide to scrap, the possibilities are endless, just go for it! If journaling has always been your problem area, why not let the scripture be your journaling and include a note (even on the back of the page if you wish) of who is in the picture and the event! If you are a die hard journaler, or even a mediocre journaler like me, you can write what it is the verse means to you or whatever else tickles your fancy!
This weeks Scripture Saturday scripture is Jeremiah 29:11. For more intimacy with the scripture, you can also head over to Picked With Love and read today's devotion, which uses this very scripture.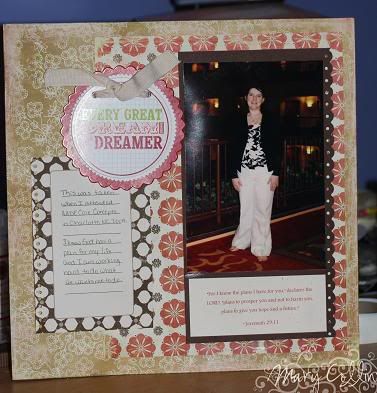 (My Mind's Eye Out & About Collection, Making Memories, Fiskars Treading Water Punch)