Ugh - believe me, it has been a long time. It seems as if every time that I wanted to blog, the devil found a way to keep me from it!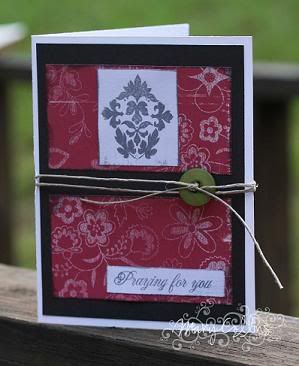 I made this little card the other day when Abby and I were playing around upstairs! I hope you like it! I just had to have the Damask stamp set by PTI when it came out, but had only used it once! I am trying to do better on that...(buying something with the best of intentions and then not putting it to use)... I think I am going to skip the PTI release this month *shock shock*, because of the amount of supplies I have that have not been touched yet!
Keeping with the theme of Scripture Saturday, I am going to add a verse about prayer to the inside. Please comment with your favorite "prayer" verse!
God Bless You,