Well, I know that it is Summer time, but Christmas challenges seem to be popping up everywhere! Have you noticed it too? I figured that I may as well jump on the band-wagon, that way I would have at least one card done come Christmas time!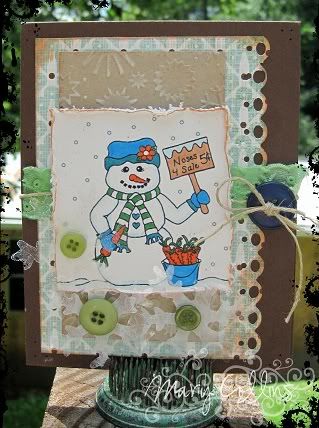 (Paper: PaperTreyInk, Basic Grey; Ink: Copics, Distress Ink, White Ink; Image: Deedee's Digis; Accessories: Fiskars Punch, Edge Distressing Tool, CuttleBug Snowflake Embossing Folder, Jute, Buttons, Acetate Sheets)
I decided to combine multiple challenges into this one though! First of all, the Christmas challenge is from The
Cuttlebug Spot
– notice the snowflake embossing done on kraft and highlighted with a little white ink! The colors, well they are from
Color Throwdown
#102, so pretty, and although they were chosen to be Summer Colors, I think they worked great for a Cool Winter card. The corners of the card have paper piercing added as a result of the
Tuesday Throwdown
challenge. And last, but not least,
Midnight Madness
is responsible for the awesome sketch! If you notice the snowflakes on the card in the corner, my dear friend Candace was looking for some "Ghost Snowflakes by Heidi Swapp", so I decided to see if I could create them… Not sure if I am happy with them or not LOL It's sure not something I would be happy enough with to give LOL
Next up is a cute little pig card that I made to go along with a Prayer Shawl that I am working on. The cute little image is from
Deedee's Digis
and you can find him in the Dollar Digi bin over there at the
Deedee's Digi's Store
! The wonderful sketch is from
Sweet Sketches
.
(Image: Deedee's Digis; Paper: PaperTreyInk, BasicGrey; Ink: Copics, Distress Ink; Accessories: Ribbon, Prima, Stickles)
Enjoy the rest of your weekend!
God Bless You,
Mary