Hey guys! Today has been an awesome day, but I think it has spoiled me and Abby both just a little! I took the whole day off from work for me and her to just spend at home! We have had so much fun together, and the day isn't even over yet!
I wanted to share with you a quick little card I made that fits in with quiet a few challenges this week since it is the 4th of July weekend!
PaperGardenProject's
current challenge is "whatever makes you feel cool". It sooo makes me feel 'cool' to live in the "land of the free, BECAUSE of the brave"!
Really Reasonable Ribbon
wants to see those Patriotic Projects,
ICSketches
is a new site to me, but I fell in love with the sketch, and last, but most certainly not least, Miss Candace over at
Christian Paper Crafts
inspired this card first due to today's Fun on Friday Challenge and the ribbon pleating technique! So, without further adue: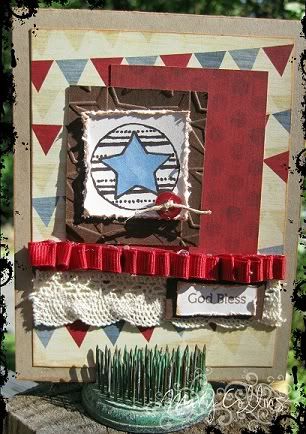 (Paper: PapterTreyInk, Misc Scrap designer paper, American Crafts Ribbon, lace, Copics, Button, Jute, Cuttlebug Stars Folder, Stamp: Let Freedom Ring-PaperTreyInk)
Have a happy and safe 4th of July!
God Bless You,
Mary