I'll tell you, the more I look at these wedding pictures, the more I love my husband! I love to look at these pictures and walk down memory lane. It's funny that as I look through them I remember memories of the day that I had forgotten until the photo triggered them. I need to look at them more often to make sure I don't forget. And the wedding video... I don't think that we've watched that but one time... Note to self: Need to make a date night with hubby to watch wedding video...
Since I have a desire to make my wedding scrapbook, I decided to use the Tuesday Sketch over at
Christian Paper Crafts
as my starting point!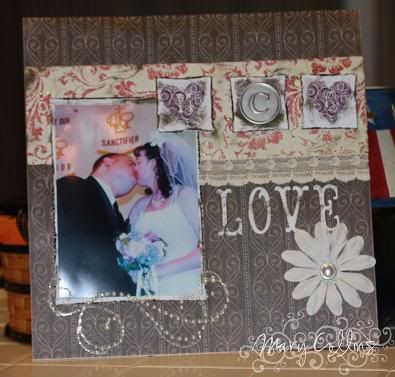 A little Basic Grey, My Mind's Eye, Bazzil flower, prima bling, lace, edge distresser, CTMH cocoa ink, PTI Heart Prints, and a metal C to complete the layout!
One thing I like about scrapbooking is that although red was no where in our wedding colors, it was fun to add a little dose of red onto the scrapbook page and tie it in with the photo by making sure there was purple on the hearts of PTI heart prints stamped images to match the purple in my flowers!
Have a wonderful Tuesday!
God Bless You,